Back
Premium Steel Arion Casket | 2 Day Delivery
Regular price
Sale price
$1,299.00
Unit price
per
Sale
Sold out
Our Premium Steel Casket is 50% cheaper than Funeral Homes
Step into a world of unmatched beauty with the Arion Casket, our perfect example of premium steel craftsmanship. With exceptional design, this casket stands as a true masterpiece to honor your loved ones. Adorned with a captivating high-gloss finish, it certainly making it a coveted choice for those seeking unmatched dignity. 
Complimentary shipping, typically delivered within 2-4 business days. Need it sooner? Reach out at (929) 295-4401 or via support@memoria.co.
Key Features of the Arion Casket:
Meticulous craftsmanship with a captivating high-gloss finish
Thoughtful design: rubber gasket and locking mechanism for security
Gentle crepe fabric interior with delicately gathered texture
Reinforced stationary handles for convenient transportation
Skillfully engineered to fit standard size burial vaults
Excellent Quality
Incorporate this masterpiece into traditional funeral arrangements, knowing its design perfectly aligns with standard size burial vaults. Moreover, feel confident in the robust craftsmanship that keeps precious memories safe and secure with a rubber gasket and locking mechanism. 
Personalized
The interior of the casket offers a canvas for personalization, therefore allowing you to create a meaningful tribute to your cherished one. Through a variety of designs, this space can be adorned with elements that reflect their unique personality such as birds, praying hands and more.
Thought About Planning Ahead? Lock in current prices and lighten future burdens for your family. Purchase the casket today and when the time comes, we are just one call away.
Dimensions

Size (interior): 79"L x 24"W x 14"H
Size (exterior): 83"L x 28"W x 23"H
Weight: 180 pounds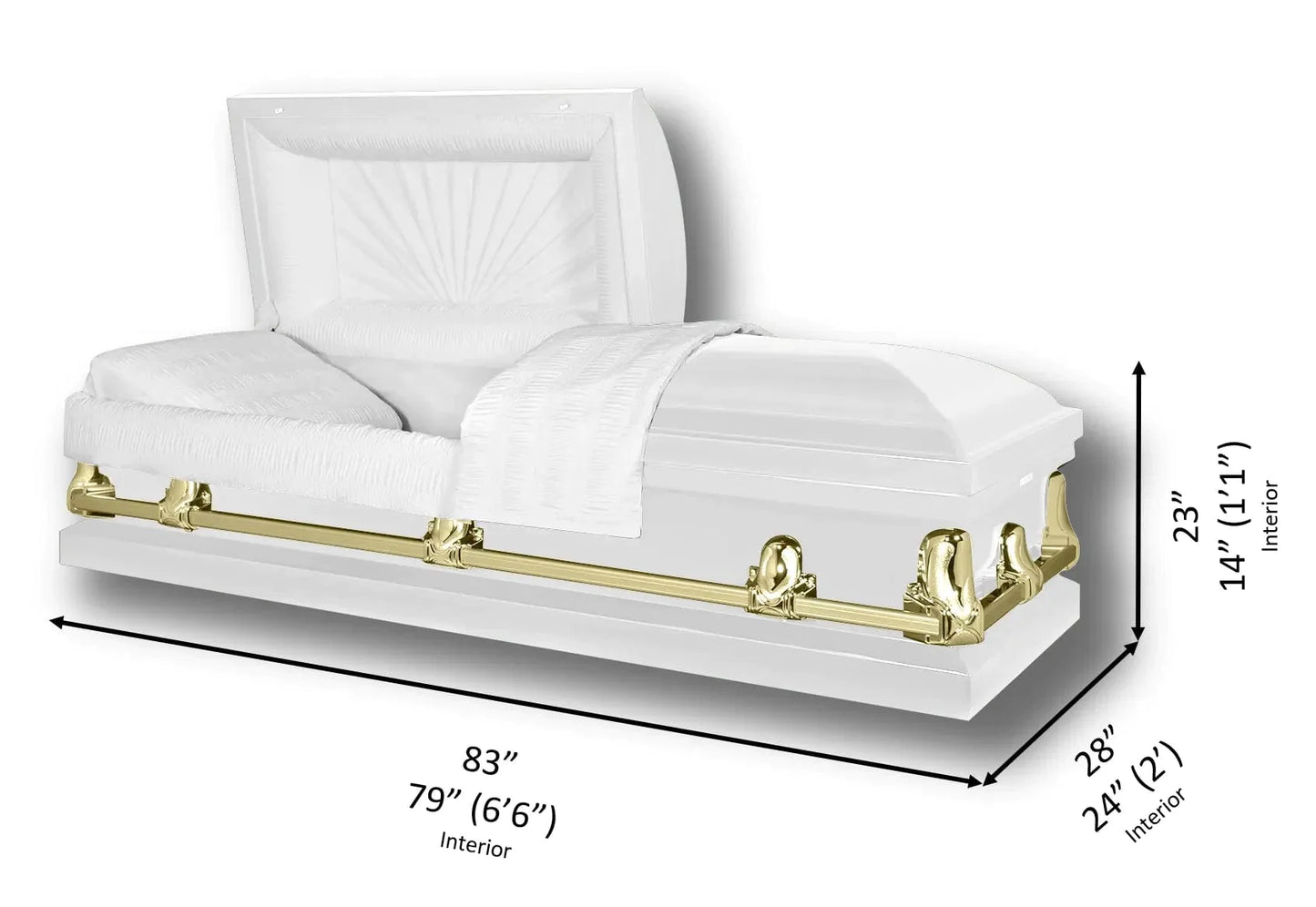 Highly recommend
Discovering this service was a blessing when I lost my beloved aunt. Despite my initial doubts about buying a casket online, their professionalism and fast delivery amazed me. The personalized white and rose-colored casket created a beautiful tribute to her memory. Highly recommended for those seeking a meaningful and heartfelt farewell.
Thank you Memoria!
Finding the right casket for my loved one who was on the larger side was a daunting task, but this service made it effortless. Despite my initial concerns about purchasing online, their professionalism and prompt delivery were exceptional. The personalized blue casket created a beautiful tribute, honoring their memory with love and dignity. Highly recommended for a meaningful and heartfelt farewell.
Amazing service
As emotionally difficult as it is to purchase a casket for a loved one, you can rest assured that Memoria will be the help that you need during this time. Not only are the caskets beautiful but the customer service is impeccable. Lastly, my casket was delivered to the funeral home 2 days after my purchase!
Excellent Service
The Memoria team answered every question, updated me multiple times along the way and made sure the casket arrived in time. I couldn't have asked for a better experience, price, and casket.