Back
Garland Cremation Urn | Adult Ashes | Engravable
Regular price
Sale price
$63.95
Unit price
per
Sale
Sold out
The Garland Cremation Urn – Timeless Elegance
Introducing the Garland Cremation Urn, a timeless tribute to your beloved. This classic-shaped urn seamlessly blends exquisite craftsmanship with elegant design. Its enamel finish showcases intricately carved vine patterns on both the lid and body, resulting in a truly unique piece.
Engraving: Whether it's their name and/or significant dates, this personal touch transforms the urn into a uniquely tailored memorial. Add an engraved pendant to personalize this urn. Please note that engraving adds 1-2 business days to your order delivery.
Artistry in Every Detail - Garland Cremation Urn 
Each Urn is a masterpiece, painstakingly hand-carved and hand-painted by skilled artisans. It begins as a fusion of alloys, expertly crafted and finished with satin enamel, radiating sophistication and durability.
Simple and Meaningful Closure
Securing your loved one's ashes is a straightforward yet deeply meaningful process – simply twist the lid securely back into place. This ensures a safe and enduring memorial, preserving the treasured memories of your dear one for eternity.
More Than a Resting Place
The Garland Cremation Urn offers not only a secure final resting place but also a beautiful tribute to the life and love you shared. It stands as a testament to your enduring bond, a symbol of remembrance that captures the essence of your cherished memories.
Dimensions

Capacity: Up to 200 cubic inches. Ideal for a body weight of up to 200 lbs prior to cremation.
Dimensions: 10.8 Inches High x 6.8 Inches Wide.
Shipping

– Our free shipping usually takes 5-7 business days including processing time. For engraved orders, please allow an additional 1-2 business days for shipping.
– Select faster shipping at checkout if required.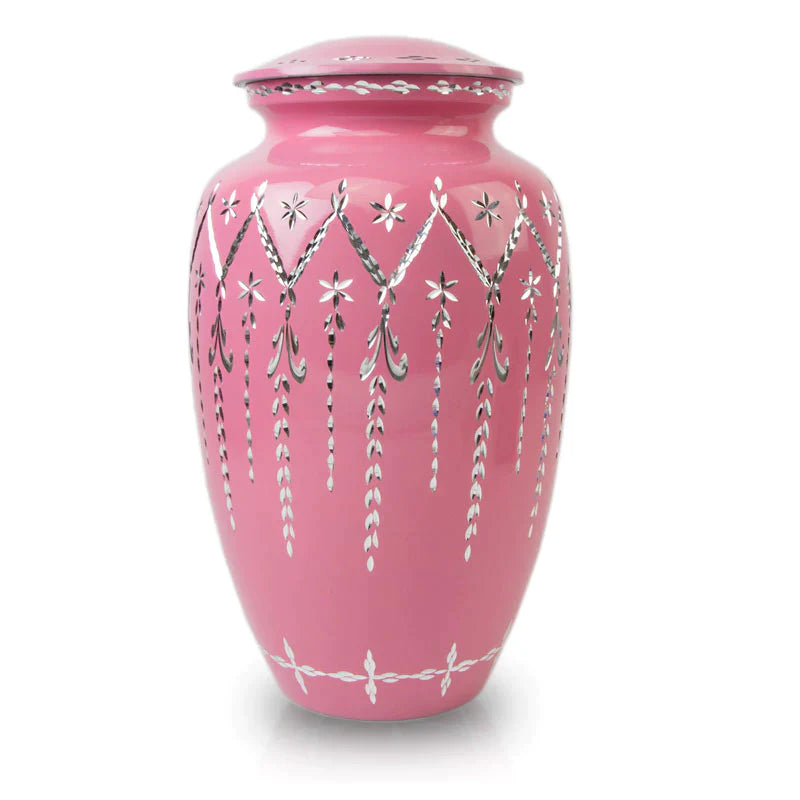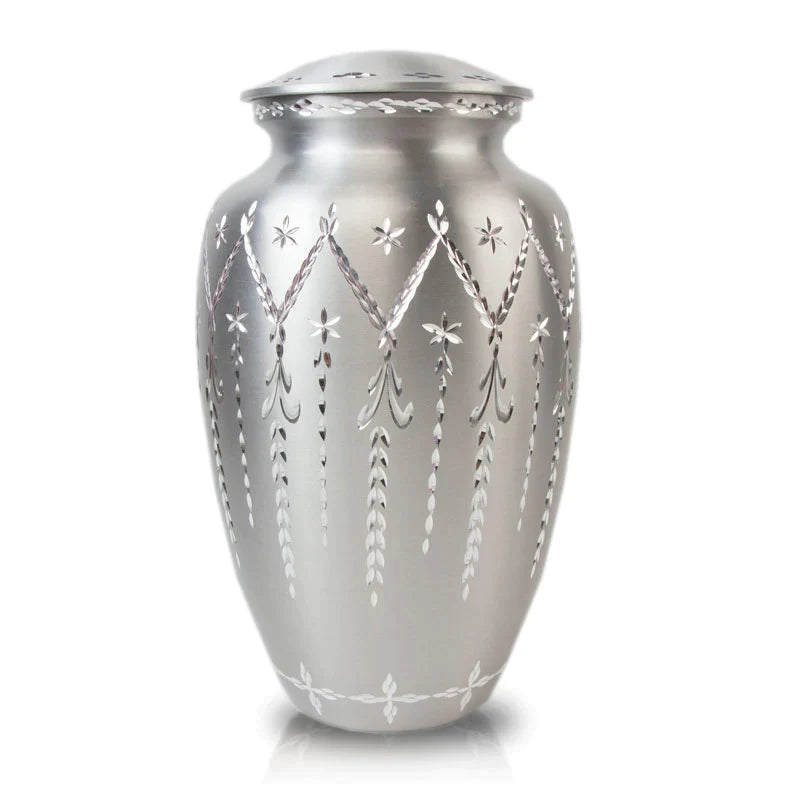 For my daughter
The light blue urn was a perfect choice to honor my daughter's memory. Its delicate beauty and peaceful design provided comfort during this difficult time. I am grateful to have found this fitting resting place for my beautiful daughter.